Kiiko Hair Studio is a young and professional hair salon. We strive to be healthy in all aspects of our work and will always aim for complete customer satisfaction.
After a warm welcome from our friendliest member Millie (our 3 year old labradoodle) and meeting your chosen Kiiko stylist, we'll bring together your vision, our expertise and a range of high-end products to create a distinct style that inspires a 'new you' and feels as good as it looks. With your hair in our careful hands, you're free to unwind your mind and settle into the cozy comfort of our Bayside salon, enjoy some friendly conversation and maybe even soak up some more love from Millie (she has a lot to give). No matter the cut, colour or style; the Kiiko experience will leave you in love with your healthy hair and glowing with the natural beauty and confidence that it brings out of you.
Kristel
Starting her hairdressing career in her home country of Estonia, Kristel brought her overflowing passion for hair and extensive education to her second home in Australia – founding Kiiko Hair Studio in Melbourne's East in 2018. Through her creative talent and exceptional styling skills,Kristel is committed to making each and every client feel comfortable, beautiful and uplifted; starting with healthy hair.
Phoebe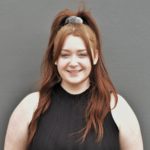 As a fourth generation hairdresser, a deep love for beautiful hair runs in Phoebe's blood. Through her enthusiasm, bubbly personality and dedication to listening to, and fulfilling, all your hair aspirations – Phoebe makes sure that every client in her care leaves Kiiko Hair studio with a smile on their face and unique hairstyle they can't help but love.
Maddy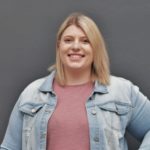 Maddy has been hairdresser for 6 years now. She started in the industry as a tiny 15-year-old salon junior and it didn't take her long to realize her big passion for hair industry. She loves how the industry is so vibrant and exciting with new challenges every day. Maddy has big passion for blondes! She loves a challenge and strives to put clients on a path that is realistic and achievable.
We love her calm, gentle personality and positive attitude in the salon.
Millie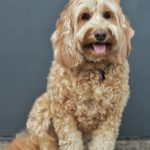 Without a doubt the most popular member of the Kiiko Hair Studio team is labradoodle pooch Millie. Quiet and adorable by nature, she is always happy to see you. Millie loves the attention so be sure to say "Hi" and give her a pat.